We will be closed on Monday, May 27th in observance of Memorial Day.
CBC with Differential Testing
Complete Blood Count, CBC

$29.00
Specimen Type: Blood
Description: The CBC with Differential is used to evaluate overall health, identify a wide range of blood disorders or to assist in managing of medications. Test includes Hematocrit; hemoglobin; mean corpuscular volume (MCV); mean corpuscular hemoglobin (MCH); mean corpuscular hemoglobin concentration (MCHC); red cell distribution width (RDW); percentage and absolute differential counts; platelet count (RBC); red cell count; white blood cell count (WBC). Turnaround time for the CBC with differential is typically 1 business day
Requirements: The CBC with Differential has no fasting requirements.
Categories: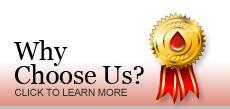 May is...
Celiac Disease Awareness Month
For this month
Use coupon code CELIAC10
Hurry offer expires
May 31st, 2013.
Cannot be applied to industry discounted prices or previous orders. One coupon code per order.