Request A Test will be closed September 1st in observance of Labor Day. We will resume normal business hours the rest of the week.
Helicobacter Pylori Antibody IgG Testing
H-plyori IgG, Helicobacter pylori Antibodies IgG

$49.00
Sample Report
Specimen Type: Blood
Description:
The H Pylori Abs IgG test may be used to help determine the cause for ulcers in the stomach or duodenum (first section of the small intestine) or to assess the cause of chronic gastritis. Helicobacter Pylori is a bacterium found in the stomach. The H Pylori IgG test screens for antibodies which may remain present in the bloodstream even after an infection has been successfully treated. This test is best used for detection of H Pylori infection if the person has not experienced previous infections. For a person who has experienced previous H Pylori infection or is testing to determine if treatment for a previous infection was successful, the H Pylori Breath Test may be more accurate.
Turnaround time for the H-Pylori antibodies test is typically 1-2 business days.
Requirements:
The H Pylori Antibody test has no fasting requirements.
Category: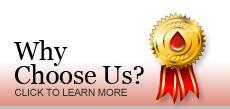 for the month of
AUGUST...
Use coupon code LYMED10 during checkout.
O

ffer expires August 31st

, 2014

.
Cannot be applied to industry discounted prices or previous orders. One coupon code per order.