Holiday Hours: Dec. 24th 8-5, Dec. 31st 8-6. Closed Dec. 25th & Jan. 1st. Normal business hours all other days.
Hemoglobin Solubility Testing
Sickle Cell Test, Hemoglobin S, Hgb Solubility

$49.00
Sample Report
Specimen Type: Blood
Description:
Hemoglobin S testing can be used to identify sickle cell disease or traits in an individual. The sickle cell test is typically used as a prenatal screening. The Hemoglobin S test measures the presence and amount of the abnormal hemoglobin S. Turnaround time for the Hemoglobin (Hb) Solubility test is typically 1 business day.
Requirements:
This prenatal test has no requirements.
Categories: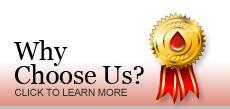 for the month of
DECEMBER...
Use coupon code ANNIV12 during checkout.
O

ffer expires December 31st

, 2014

.
Cannot be applied to industry discounted prices or previous orders. One coupon code per order.