**ALERT Our phone system is down. Orders may be placed online. Urgent matters, please call 440-740-1599.**
Lipid Panel Testing
Cholesterol Test, Lipid Test

$29.00
Specimen Type: Blood
Description:
Lipid Panel testing is often used to access the risk of coronary disease. This is a cholesterol total test which includes; high-density lipoprotein (HDL) cholesterol; low-density lipoprotein (LDL) cholesterol (calculation); triglycerides; very low-density lipoprotein (VLDL) cholesterol (calculation). Turnaround time for the Lipid Panel is typically 1 business day.
Requirements:
The Lipid Panel blood test requires fasting for 9 - 12 hours prior to going in for blood collection.
Lipid-Cholesterol Overview
Categories: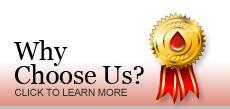 May is...
Celiac Disease Awareness Month
For this month
Use coupon code CELIAC10
Hurry offer expires
May 31st, 2013.
Cannot be applied to industry discounted prices or previous orders. One coupon code per order.