We will be closed on Monday, May 27th in observance of Memorial Day.
Pregnancy, Quantitative Testing
hCG

$39.00
Specimen Type: Blood
Description:
The Quantitative Pregnancy test may be used for the early detection or monitoring of pregnancy. The hCG Quantitative test may also be used to evaluate or monitor trophoblastic disease or germ cell tumors of the testes or ovary. The Quantitative Pregnancy test provides a numeric result which can indicate possible weeks gestation. Turnaround time for the Quantitative Pregnancy test is typically 1 business day.
Incubation Period:
This test can detect pregnancy as early as 7 days after conception but recommended after a missed menstruation.
Pregnancy Overview
Categories: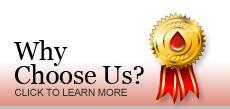 May is...
Celiac Disease Awareness Month
For this month
Use coupon code CELIAC10
Hurry offer expires
May 31st, 2013.
Cannot be applied to industry discounted prices or previous orders. One coupon code per order.