Stool Testing
Stool testing is an effective way to check for conditions which affect the digestive system, liver and pancreas. Infections from bacteria, viruses or parasites, poor nutrient absorption, and some forms of cancer can all be detected by lab tests performed on stool samples. If you're experiencing symptoms such as nausea, gas, diarrhea, abdominal pain or cramping, and loss of appetite you may benefit from the information provided by laboratory stool testing.
Request A Test offers a variety of stool testing at affordable prices that are easy for anyone to order. Customers can choose from 1000's of lab locations across the country and many tests see results in as little as a few business days. Order your stool testing today online or call 1-888-732-2348 to speak to a representative during business hours.
---
Can't find a test you need? Additional testing is available
Please call Request A Test (888-732-2348) to inquire.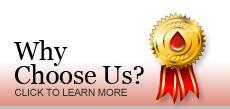 for the month of
December...
Use coupon code ANNIV14 during checkout.
O

ffer expires December 14,

2016

.
Cannot be applied to industry discounted prices, previous orders or tests not listed on our website. One coupon code per order. Coupon code expires at Midnight EST.