We will be closed on Monday, May 27th in observance of Memorial Day.
Transferrin Testing
Siderophilin

$49.00
Specimen Type: Blood
Description:
Transferrin is a protein largely produced by the liver which is responsible for 50%-70% of the iron binding capacity of serum. As there are other iron binding proteins, Transferrin is not the same as Total Iron Binding Capacity (TIBC). Transferrin levels increase in cases of iron deficiency and decrease in cases of iron overload. An out of range Tranferrin level can be indicative of Iron Deficiency Anemia as well as a variety of liver problems. Transferrin levels may not be elevated in cases of iron deficiency which are coupled with severe protein malnutrition. Higher transferrin levels may occur in patients taking oral contraceptives or in the late stages of pregnancy.
Turnaround time for this test is typically one business day.
Requirements:
The Transferrin test requires fasting for 8-12 hours prior to going in for blood collection.
Categories: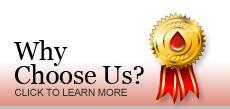 May is...
Celiac Disease Awareness Month
For this month
Use coupon code CELIAC10
Hurry offer expires
May 31st, 2013.
Cannot be applied to industry discounted prices or previous orders. One coupon code per order.