We will be closed on Monday, May 27th in observance of Memorial Day.
Vitamin B12 and Folates Testing

$69.00
Specimen Type: Blood
Description:
The Vitamin B12 and Folates blood test may be used to determine Vitamin B12 or Folate deficiency or macrocytic anemia. Vitamin B12 and Folates deficiency may be caused by malnutrition, malabsorption disorders such as celiac disease, increased loss due to kidney or liver diseases and increased need due to pregnancy. Vitamin B12 is needed for normal red blood cell formation, as well as tissue and cellular repair. Folates are needed to red blood cell production and also needed to make DNA and RNA. Turnaround time for the Vitamin B12 and Folates test is typically 1 business day.
Requirements:
The Vitamin B12 and Folates test prefers a fasting period of 8-12 hours prior to collection. If the patient is unable to fast they must make it known at the time their order is placed. Specimen must be drawn before Schilling test, transfusions or B12 therapy is started.
Categories: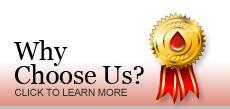 May is...
Celiac Disease Awareness Month
For this month
Use coupon code CELIAC10
Hurry offer expires
May 31st, 2013.
Cannot be applied to industry discounted prices or previous orders. One coupon code per order.