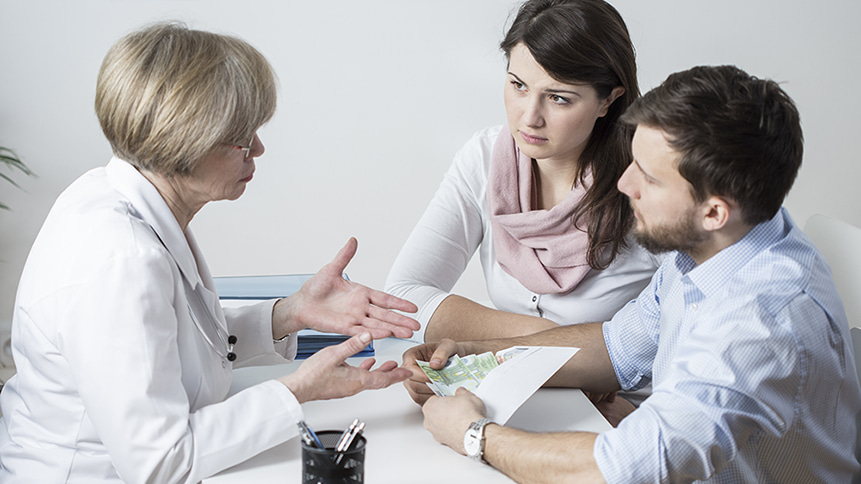 Questions to ask your Fertility Doctor
March 22, 2023
Jason Ferrier
When should you see a fertility specialist?
Difficulty conceiving can be a frustrating problem for couples who are eager to start a family. Deciding to seek outside help can be a difficult decision. At what point should you consider consulting a professional and investigating the possibilities of fertility treatment? Keep in mind that immediate results don't happen for everyone who is attempting to become pregnant. Unless you have a known medical condition that may affect your fertility, it is usually recommended to only consult a fertility specialist in the following situations:
You are a female under the age of 35 who has not been able to conceive after a year
You are a male under the age of 40 whose partner has not been able to conceive after a year
You are a female over the age of 35 and have not been able to conceive after 6 months
You are a male under the age of 40 whose partner has not been able to conceive after 6 months
How to prepare for a visit to the fertility doctor?
When seeing a fertility specialist, especially if it is your first visit, it can be helpful to do some research ahead of time. This can help you to have a better understanding of what to expect and prepare the questions you will want to ask the doctor. If both you and your partner are going to be present, you should both prepare the necessary information. Here are some tips to help ensure you are ready for your appointment.
Your doctor will want to know about your medical history as well as any health issues that run in your family. Conditions such as diabetes, endometriosis, STIs, heavy alcohol consumption, drug use, as well as previous surgeries and certain medications, can all impact your reproductive health. You can communicate with your primary care doctor to make sure any relevant records have been forwarded to the fertility specialist. If you have worked with any other doctors for fertility issues in the past, you should also have those records sent over.
Have a list of any medications you are currently taking.
For females, it is helpful to have data on your ovulation cycles for at least a few months.
Be prepared to talk about your fertility goals. When would you like to have children? How many children would you like to have?
Make sure the fertility doctor has access to the results of any relevant testing you have recently taken. It is likely the doctor will recommend additional testing to help determine a fertility plan that will work best for you.
What questions to ask a fertility doctor
Knowing what questions you want to ask the doctor ahead of time is a great way to ensure your visit covers all the information you will need. These are some common ones to start with.
Based on my medical and/or reproductive history, what is your initial assessment?
What tests will be needed to determine the best treatment plan? Lab tests such as routine blood work, hormone levels, screening for infectious diseases, and imaging tests may be necessary to give your doctor a better picture of your situation.
If there are multiple treatment methods, what are the potential risks and changces of a successful outcome from each one?
How long does each treatment option take to determine if it will be effective? Understand the time commitment you will be getting into. How will it affect your work and other commitments you may have?
Who can I contact to ask follow-up questions? No matter how thorough the discussion is during your appointment, it is likely that you will think of additional questions later. Make sure you know who the best person is to contact to get expedient and reliable answers.
What type of costs will I be looking at? It is important to understand the costs associated with different types of treatment. This may also require making inquiries to your insurance provider. Depending on your budget, you may need to determine which options will give you the highest likelihood of success weighed against how much you will have to pay out of pocket.
Once you commit to a plan, how soon can you get started?
Don't be afraid to stop and ask additional questions if there is anything that comes up during your visit that you need further explanation on. You will probably hear a lot of terms or acronyms you may not be familiar with. Don't hesitate to ask the doctor to clarify anything you need more information on.
What fertility lab tests do you need?
There are a variety of lab tests your fertility doctor may recommend. Some tests may require physical exams or imaging scans that will need to be performed in a doctor's office. Others are more routine tests that you can get done at a local lab. Common labwork for people preparing for fertility treatment can include:
Where can I get fertility testing near me?
You've met with your fertility doctor. They've recommended some follow-up lab testing to help assess your situation. Now what? Getting lab work is a painless process when you order from Request A Test. You can select the tests you need from our extensive menu and then pick from over 4,000 convenient lab locations across the US. We offer discounted prices on hundreds of tests so our service is not only easy but affordable too. You can place an order and go to the lab as early as the same day. Most results are available in just a few business days so you can get answers quickly. Treating infertility is a process and lab work can be an important step in that process. Request A Test make it a step that is hassle-free. To get started just visit us online at www.requestatest.com or call our team at 888-732-2348.
Affordable, Rapid, Confidential
Step 1

Order
Your Tests

Step 2

Go to
the Lab

Step 3

Get Your
Results