**Our phone system is down and in the process of being repaired. Orders may be placed online. We apologize for any inconvenience.**
Deployment Panel 4
Repeat Deployment

$253.00
Specimen Types: Blood,Urine
Description: The Deployment Panel 4 (Repeat Deployment) includes many tests typically needed prior to a repeat deployment overseas. The Deployment Panel 4 includes CBC with differential; Comprehensive Metabolic Panel; Hemoglobin A1c with eAg; HIV-1 Abs; Lipid Panel; Urinalysis (Complete) and Varicella Zoster Virus Antibodies IgG. Turnaround time for the Deployment Panel 4 is typically 1-3 business days. (Please refer to individual tests for detailed test descriptions.)
Requirements: The Deployment Panel 4 requires fasting 10-12 hours prior to blood collection.
This package includes:

Category: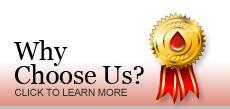 May is...
Celiac Disease Awareness Month
For this month
Use coupon code CELIAC10
Hurry offer expires
May 31st, 2013.
Cannot be applied to industry discounted prices or previous orders. One coupon code per order.