ALERT: Our phone system is down. We have 1 line open to receive calls. Please keep trying or place your order online.
Hepatic Function Testing
Liver Function, Liver Enzyme

$29.00
Specimen Type: Blood
Description: The Hepatic Function test may be used to evaluate and monitor liver function or disease. Test includes alanine aminotransferase (ALT/SGPT); albumin alkaline phosphatase, aspartate aminotransferase (AST/SGOT); bilirubin, direct; bilirubin, total; protein, total. Turnaround time for the Hepatic Function test is typically 1 business day.
Requirements: The Hepatic Function test has no fasting requirements.
Categories: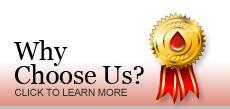 May is...
Celiac Disease Awareness Month
For this month
Use coupon code CELIAC10
Hurry offer expires
May 31st, 2013.
Cannot be applied to industry discounted prices or previous orders. One coupon code per order.